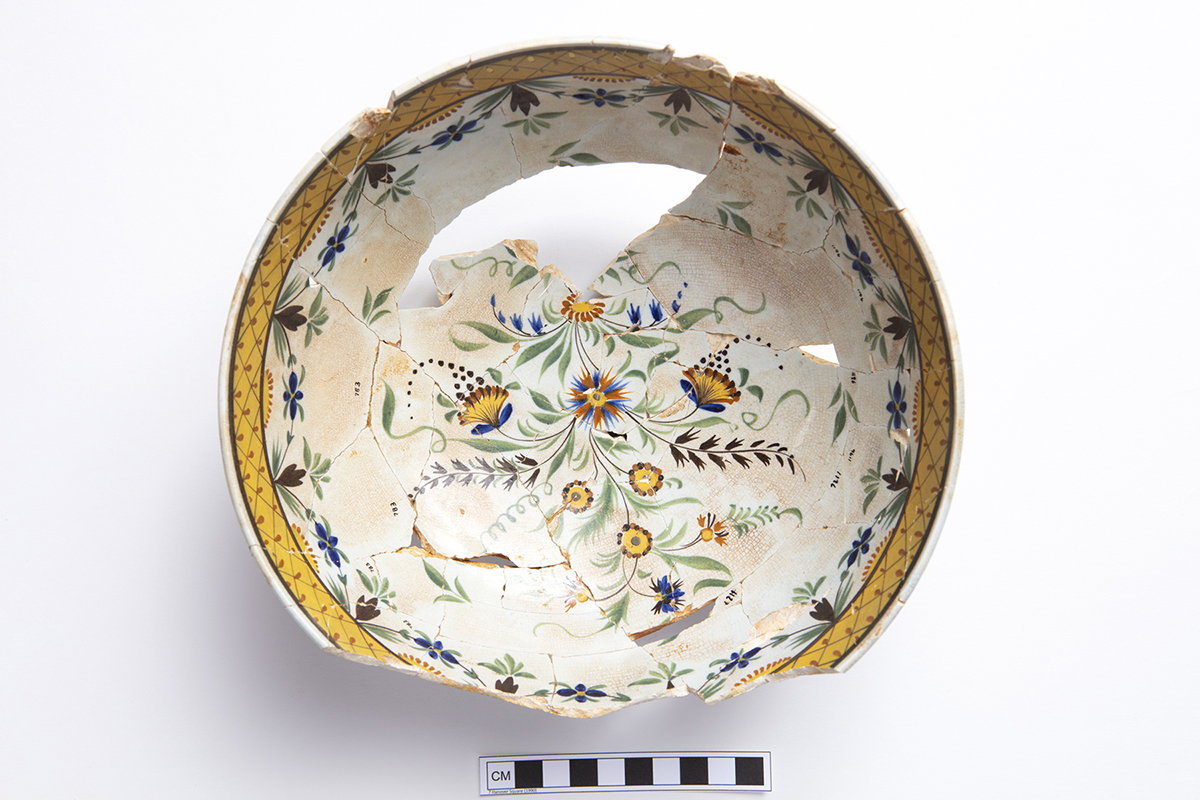 Happy National Punch Day!
This large painted pearlware bowl was used as a vessel for serving punch. Punch was a popular beverage during the late 18th and early 19th centuries, the time period when this bowl was manufactured. Although recipes differed, punch typically included: rum, sugar, lemon or lime, water, spices, and sometimes milk. The price of punch was considered to be reasonable, meaning it could be enjoyed by elite New Yorkers and common folks alike. Although punch-serving vessels were being made from a number of different materials, including pewter, silver, and glass, the most commonly utilized material was ceramic. This pearlware punch bowl is decorated with underglaze painted earth tone colors in a floral and botanical pattern that was typical in this period.
Punch bowls like this one would be featured at punch parties, which were usually male gatherings where alcohol was consumed in quantity without the fear of offending women. However, this specific punch bowl, found in a "Ceramic Shop" deposit in lower Manhattan, was likely unused. The deposit, which contained more than 35,000 broken ceramic sherds, was located at the site of two late 18th to early 19th-century ceramic shops run by John Elting from 1794 to 1795, and then John Manley from 1798 to 1820. This punch bowl, consisting of 71 mended sherds, was pieced together by archaeologists that analyzed the site in the 1980s. The archaeologists determined that the artifacts from this deposit accumulated rapidly and likely represented either the remains of a wrecked ceramic shipment traveling from England to America, or perhaps an unfortunate accident in the shop. Although this punch bowl may never have sat lovingly on the table of one of our city's ancestors, it still plays an important part in interpreting the history of New York.
For additional information about this vessel, please click here.